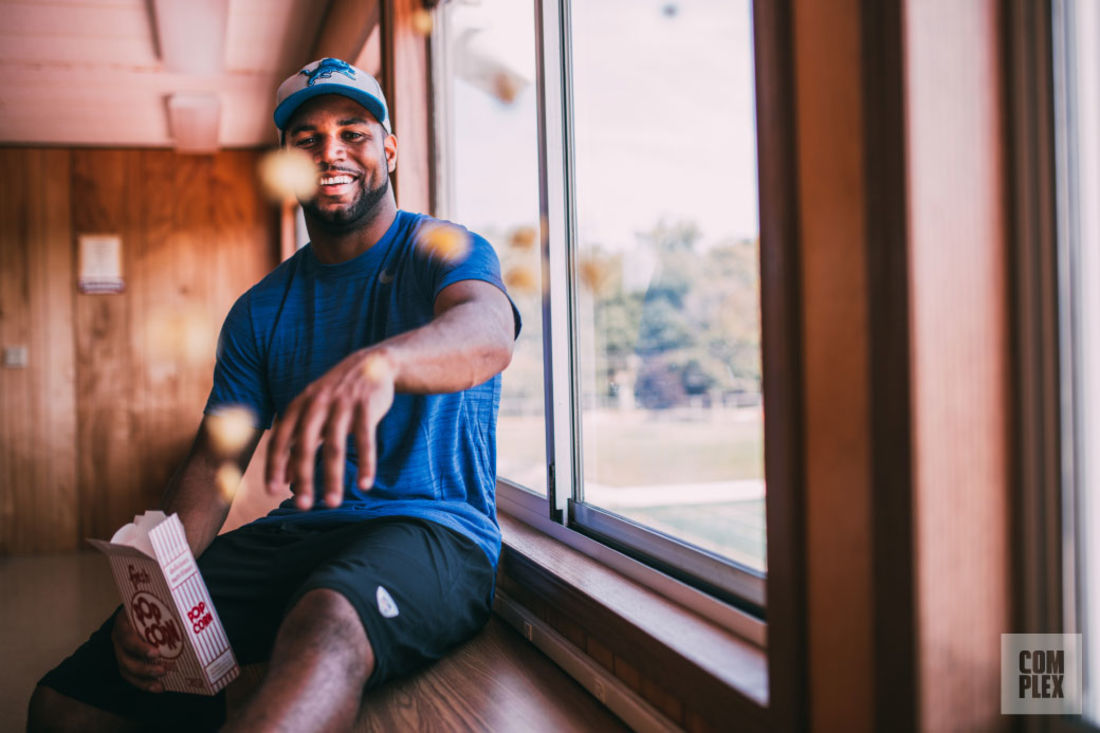 In modern media, "the full story" is a bit of an industry unicorn. Thanks to social media outlets like Twitter, Facebook, and Instagram, the never-ending hunger for 24/7/365 news coverage, and the increasing salaciousness of journalism's clickbait era, a nuanced story that shows a side from all parties is increasingly rare. Rather, information is passed around second-hand. One website reports the original story; the others aggregate in kind. A game of Telephone can unfold, sacrificing crucial details in the process. It can be a cutthroat business.

Detroit Lions wide receiver Golden Tate has seen the highs and lows of this new age in communications. The Pro Bowl wide receiver who tallied 99 catches last season en route to a one-stop playoff appearance is undoubtedly talented. However, his public profile has also been shaped by anything from Twitter to tabloid speculation. Last year, he was the subject of rumors of adultery concerning former teammate Russell Wilson and a supposed affair that Tate had with Wilson's ex-wife, Ashton Meem. In February, Tate denied the story, adding that it was "sad" that Wilson himself hadn't put the claims to rest. At the same time, reports emerged of locker room tension between Tate and Buffalo Bills wide receiver Percy Harvin during their time together in Seattle, dragging Tate's name into a story that he views as a "misunderstanding" more than anything. In April, Tate's views on domestic violence were quickly picked apart by what he may refer to as "the eye in the sky" after he tweeted about his frustrations with social media's reactionary culture. He would end up deleting his original tweets.

The most immediate impression of Tate runs counter to the brash, unapologetic persona you may have cobbled together from news stories. While we're sitting at a high school field in Birmingham, Mich.—where teenagers awkwardly find reasons to walk by Tate, say hello to him, and perhaps ask for a picture—he is unfailingly polite and accommodating. And while some of his past antics and quotes have occasionally seemed larger-than-life, Tate's quiet composure today doesn't come across as affected or put-on. It's clear that he would rather have a good conversation than make an easy headline. We have all heard of Golden Tate, the mercurial loudmouth. But the Tate who I'm sitting with is quick to note that he is a deeply devoted Christian (he was raised Southern Baptist), and a proud fiancé to his longtime partner, Elise Pollard. He's a passionate supporter of the military, a commitment that extends to his charitable organization, the Golden Future Foundation.

I'm hesitant to call Tate arrogant. Self-assured, yes. But, mostly, he has no fear about communicating in a direct and honest way, whether you agree with him or not. He, for instance, will say that he would've been a difference-maker for the Seattle Seahawks in Super Bowl XLIX. When asked to name his top five receivers in the NFL, he lists himself (though, he does add Dez Bryant as a sixth, perhaps placing himself as the odd man out). Regardless of whether those things are true, you'd be hard-pressed to feel any sort of anger towards him when you hear him say it in-person. Tate is a man powered by belief; and as much as he believes it's God who gave him his gifts, he seems to also believe in these gifts as an extension of himself. It's not arrogance. It's faith.

But what's expressed in-person can fail to translate when it's put on the page. It's one thing to read something, but listening to someone as they say it will always add another dimension. As a public figure who is often at a distance from his spectators, Tate doesn't usually have the luxury of his audience understanding context or tone. But even if he's beset by questions and commentators on a regular basis (whether from the media or Twitter trolls), he's always quick to maintain perspective. Anyone from Tate to Tom Brady will tell you that you won't win in this league until you've learned how to keep your critics out of sight and out of mind.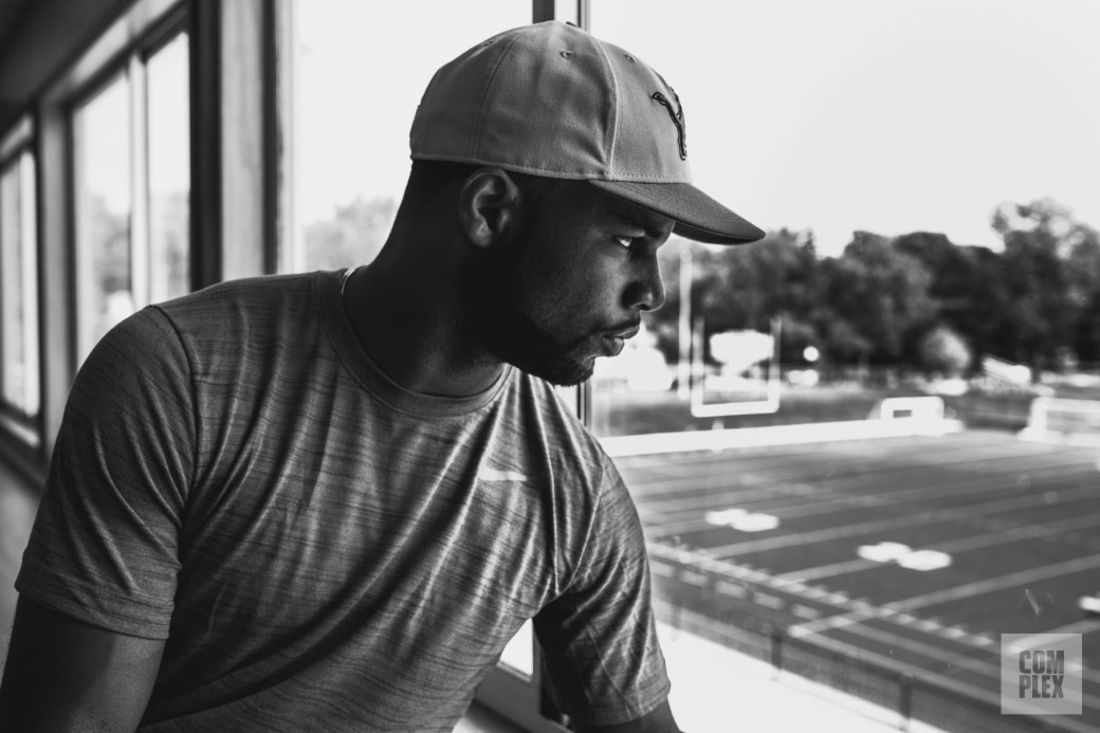 You're coming off a Pro Bowl season—99 catches. What's it like going into this year with heightened expectations? Where's your head at? 
I try to stay even as far as nerves, but my goal every year is to be just a little bit better than last year and that means collectively, personally, and to just try to win more games. If the peripheral stats come with it, that's awesome, but it's a team game. And since I've been in the league, I've had games where I've had two touchdowns and 120 yards, but we lose. That's not a good feeling. Because you always feel like you can do more, so if that means I have three catches for 40 yards but we win—that's what's important to me. I'm trying to go deep in the postseason and get another Super Bowl, so that's what's important to me.

But your first Pro Bowl, what was that experience like?
It was a great experience. My family was there to share the moment with me, that was one of the dreams I've had as a youngster. Going to the Pro Bowl, win the Super Bowl, and after five years I've done both. It's a huge blessing, it's something that a lot of people can't say they've done. It was a great experience for me I had a really good game. I was a little out of shape; I remember being so tired because I hadn't ran in a couple of weeks and I didn't know I was going to go until a few days before I left.

But great experience, great being around some of the most elite players. And one thing I've noticed about all these elite players, Calvin Johnson, Adrian Peterson, Aaron Rodgers, Peyton Manning—these are all high characters guys. And I think they are just the best. These are the guys that are fighting to be better every single time they step out onto the field. Very charitable guys, high character guys, and that's one thing I noticed about the elite athletes, they are good people. And I think that's a recipe for being a really good player in this league.
"At the time, I didn't want to leave Seattle. I mean, coming off a Super Bowl run and being there for four years…I didn't want to leave that."
What's it like to play with Calvin Johnson? Did you guys work out together during the offseason? What's your relationship with him like?
We have a great relationship. Calvin is kind of a very humble, quiet person for the most part. But very, very entertaining at the same time. We have a really good relationship and I usually can't keep up with his workouts because he trains so tough, and it's hard to keep up with—not many people can. But we definitely hang out as buddies and spend time with each other. Obviously, a lot in the facility playing cornhole or ping pong. Or sitting in the meeting rooms talking about way we can be better each week.
You say you're a competitor, but at the same time you're playing with one of the greatest wide receivers of all time. Do you kind of bristle at being a second option?
I mean, mentally, I don't prepare and I don't see myself as a No. 2. You never know what's going to happen with injuries. I mean, God forbid, Calvin goes down this year, but last year that was real. He had an ankle injury and someone had to step up; so me, preparing like I'm the No. 1 always—it wasn't a big deal. It's what I've prepared for my entire life. So I think I did a decent job of holding it down when he was gone.
But, I understand Calvin Johnson is a heck of a talent and arguably the best ever to play the game. My job is to do my job the best I can, complement him as much I can, and help this team win. He's going to get his touches, he's a big-time star and I understand that. But, mentally, I prepare myself like I'm the No. 1 star, because you never know what's going to happen.

You show a lot more flare and personality on the field than he does. Have you always been that way?
Yeah, I play the game of football with a lot of passion. If you know me as a person, you just see it as Golden being Golden. Just being goofy Golden and having fun. But if you don't know me, I don't know how you take it. Some people take it as arrogance, and some people take it as whatever they do. But if you know me and spend time with me, you know it's just me having fun, playing with passion. I think there's a bigger problem when you mess up and don't show passion or when you do something great and you're just whatever. It gives off the vibe of not caring—and that's not who I am. At the end of the day we are entertainers.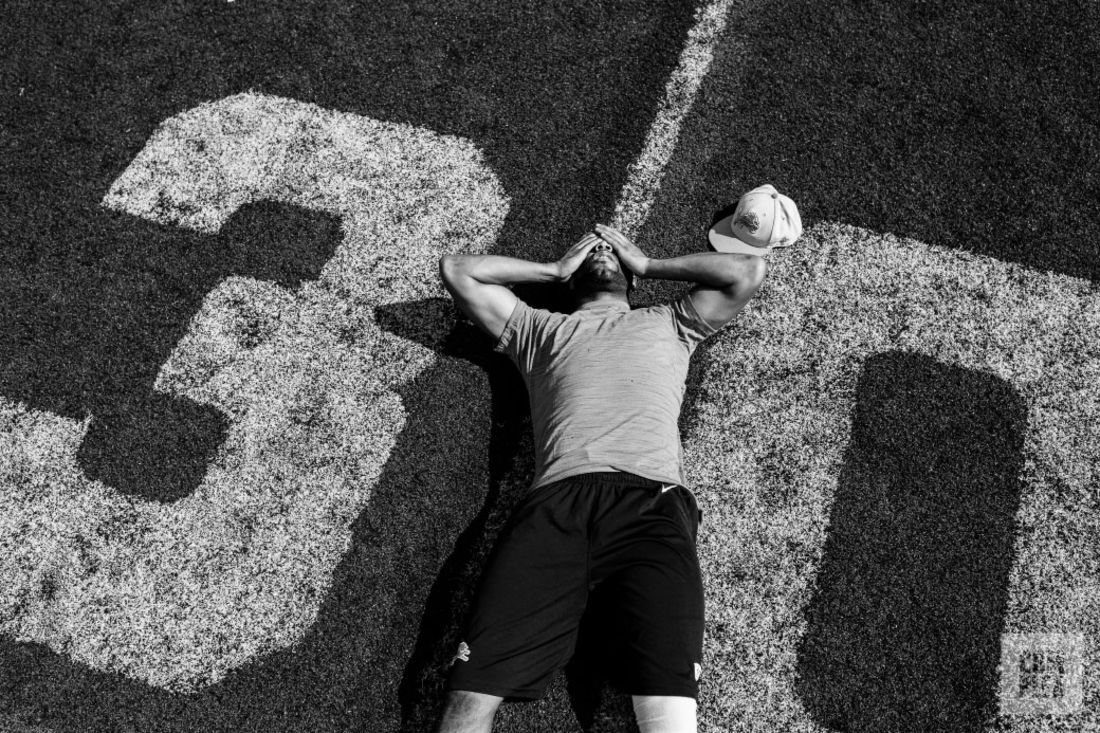 Do you feel like you want to be a celebrity?
I mean, I don't think of what I do as to be a celebrity. I play football and the world we live in with fantasy football and how impactful that is, it's kind of inevitable. With all the social media, there's always ways to get your name out there. I think, with being a celebrity, there's a large territory that you have to understand you're stepping into. A lot of it is good, and some of it is not so good. You're under a microscope more so than just being a football player. I don't have any regrets. I try to use this platform I'm on to better myself, to better the people around me, to better the community, and to get God's word out.

As a player who is trying to get better and better every year, are there any distractions that you struggle with?
I think now the biggest distraction is social media. Because, now, [there are] people who sit behind the computer screen, who criticize everything you say and do. And it's that time of the year when fantasy football is the most popular thing in America right now. That has pros and cons.

The pros are: People who really don't care anything about the game of football play this game, and that is fun. That's how they learn about players and how they connect with players. But at the same time, a lot of people don't understand the difference between fantasy football and the reality of this, so they attack you on social media and make threats because you don't do well when they expect you to. But when you do well, on the flip side, they praise you. So, that's both a pro and a con.

Obviously, the microscope we are under is huge. I think coach [Jim] Caldwell said it perfectly a few weeks ago, that it takes a certain person to be a professional athlete. Obviously, the physical aspect—the athleticism—you have to have. But, in addition to that, nowadays—you didn't have to deal with this 15 years ago—[it requires] character. You have to have character, you have to represent yourself well, on and off the field. You have to stay out of trouble, stay away from the DUIs, and whatever it is.

And then the mental part of it. Mentally you have to be strong, you have to be able to think in a split second. You can't hit the delete button and redo it. Once the eye in the sky catches it, it's all said and done. And there's a small portion of people who can mentally do that. Athletically, stay sharp on and off the field, [and] also stay out of trouble.

So those are the tough parts about it. But once you kind of get it, it's all a blessing.

Which city has a more vicious or unforgiving fan base: Seattle or Detroit? 
That's a tough question because here in Detroit I haven't gotten into any trouble. I'm here now, and there hasn't been any negative talk about me, I haven't done anything that's going to attack my character. Not that I did in Seattle either, but a lot of people were a bit sensitive and tender when I left Seattle. And the fans didn't completely understand the situation and what happened; they just kind of judged and thought whatever they thought. But that's an answer for both parties, I guess.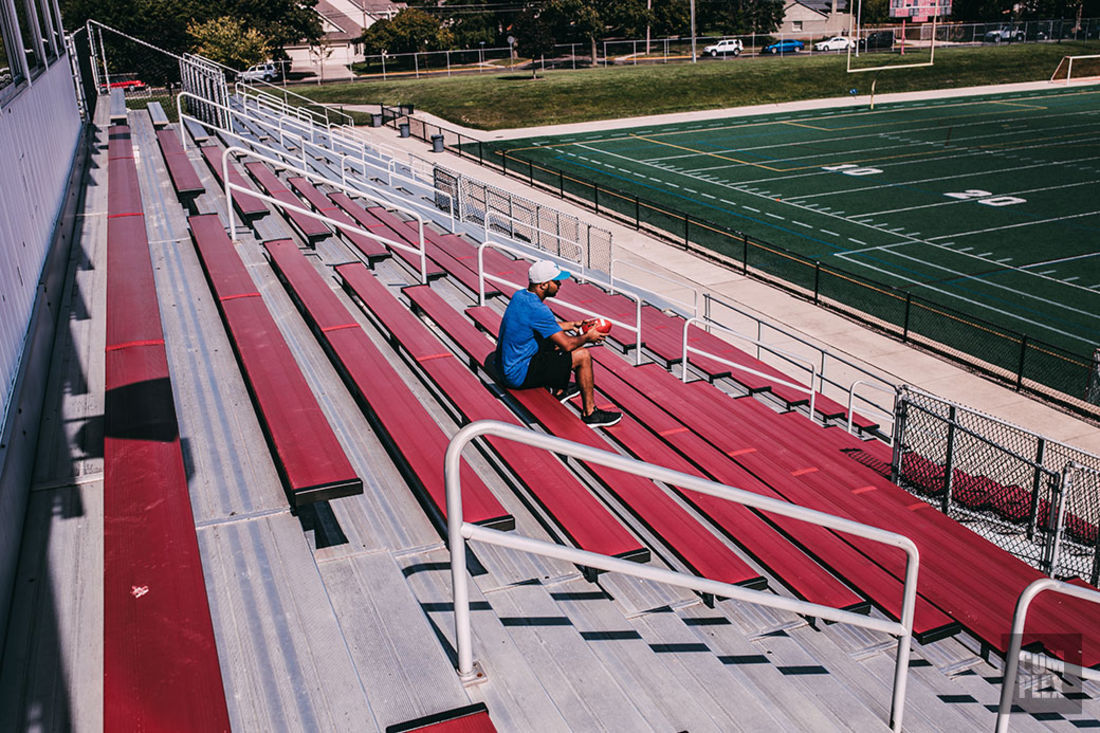 Do you feel like it ever makes you paranoid?
Ehh, a little paranoid. We live in a time when I could be sitting here, just having a normal conversation, and I could say something that wasn't positive about someone or something, and you never know—someone over here might be filming it. It's that quick, gets on the Internet, all these retweets, favorites—it can really bring you down really quickly. One bad moment can destroy every good moment that you've ever had.

I have some buddies in the NFL, who've been awesome in the community, strong Christians, done a lot on the field. And they have one mess-up. One mess-up that the public eye gets ahold of and it takes away from everything positive they've ever done in the community. And I think that's unfair, but that just comes with the territory.

What have you thought of the NFL's more proactive, punitive stance in the past year then? A lot of people look at the NFL as being too reactionary right now, whether the punishment fits the crime…
Right now, I think in our profession, and anyone in the public eye, it's guilty until proven innocent. And that's how I feel because the media is always going to pick up the negative. And that's what's going to sell: the negative. People want to see what bad you've done, rarely they're going to put the good out there. And what I mean by that is: Say I do something that people frown upon. It's going to be put out there regardless if I did it or did not do it. And that's really the tough part. Because the media has a job to do, and a lot of the time they twist things, and they take certain words and fit them into other things. And people read what they want to read. So next thing you know—although I didn't do it and I'm actually the victim—they will attack you.
"I have total confidence in myself. And I'd be silly to say, 'No, I don't think I would've beat [malcolm butler].'"
I guess that's why I was asking whether you want to be a celebrity, because it seems like all of that baggage is a consequence of it. 
Yeah, but at the same time everything happens for a reason. It's a blessing. The way I simplify it as much as I can: Would I rather have people not knowing anything about me, and not talk about me? Or would I rather have people have something to talk about and praise me when I do something well? I'd rather be talked about and acknowledged when I'm doing well. That's the simplest way to put it. If "ifs" and "buts" were pots and pans, the whole world would be a kitchen. And I can't change it right now, so I'm just going to run with it and be the best I possibly can.

With regards to the back-and-forth that has taken place between you and Percy Harvin in the past, how do you think that might have spun out of control? Have you talked to Percy at all in the past year?
I haven't talked to him since we saw him at the White House, back after the Super Bowl. Honestly, I didn't spend too much time on it. I wish Percy Harvin nothing but the best and I hope he balls out every game and gets the praise he deserves. He's definitely a heck of a talent and I don't worry about what the media puts out there. Because, probably, a lot of it is twisted. Simple-minded people can believe what they want, but I'm going to continue to do my job the best I can and look forward, and find a way to better myself and grow in Christ.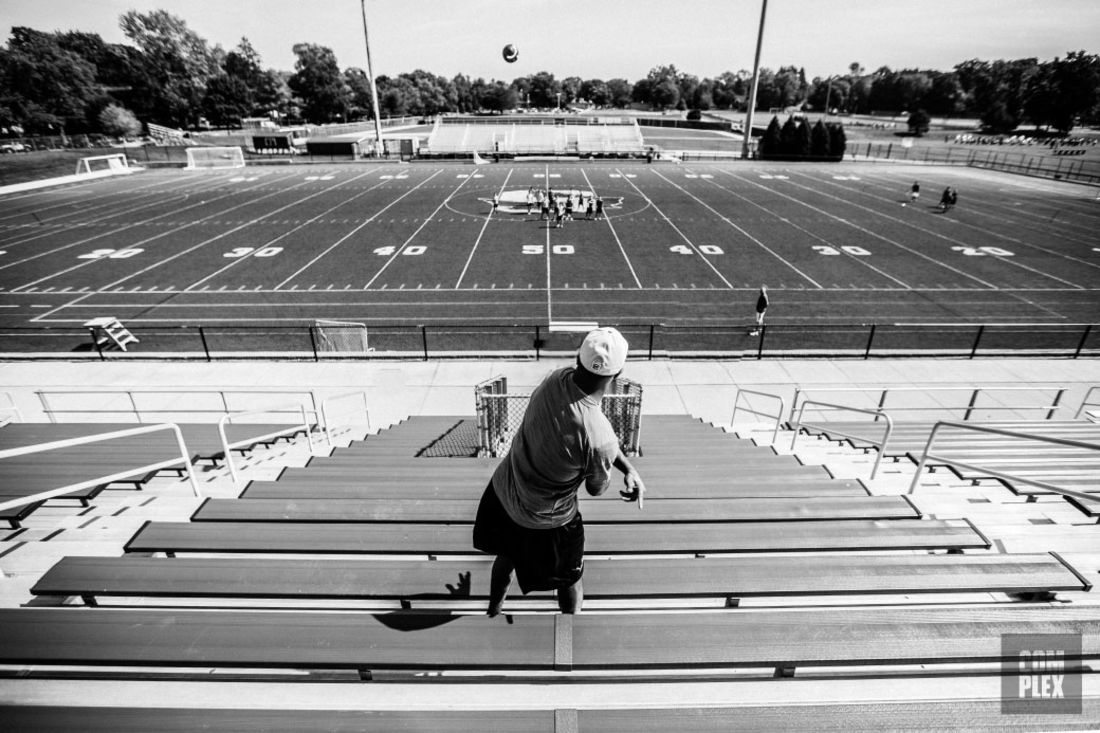 I'm wondering if you could tell me a bit about BODYARMOR.
BODYARMOR is a drink that I've endorsed which is great for hydration. Natural cane sugar, coconut water, a lot of potassium, and most important it's tasty. Very, very tasty. I like drinking it in my house. I keep cases in my refrigerator, I drink it all day and I feel great. I feel like I don't cramp as much as I did when I was drinking the other sports drink. It's something I'm proud to endorse.

Sometimes the guys will sign up to endorse things they're not passionate about, or they don't believe in—but that hurts the brand. This is something I actually believe in and I love the product. So I'm happy to be a part of it and it's easy partnering with them.

Is it better than Russell Wilson's Recovery Water?
I don't know too much about this water that turns you into a superhero, Superman. This isn't going to transform you by any means, but realistically it's going to keep you from cramping too much. It's tasty and for the most part it's good for you.
Coming from Seattle—where you guys had just won a Super Bowl—to a place like Detroit, the organizational culture is totally different. What was that decision-making process like when you were making the move?
You know, I try not to live in the past too much and think about the "what ifs." I just try to move forward, and I figure God has a plan and this is just part of his plan. At the time, I didn't want to leave Seattle. I mean, coming off a Super Bowl run and being there for four years—with the relationships I had then and still have now—I didn't want to leave that.

But at the same time, I knew that in order for me to reach my potential as a football player there [were] going to be better opportunities. The Lions showed interest early in free agency. I took a trip here, loved the coaching staff, the organization, and everyone that I met, and made the decision. Now, looking back at it, it's working out tremendously for myself and the organization. I think the city is coming [together] because of the Lions winning games last year and that's what it's all about.

I know you don't want to get into "what ifs," but I kind of have to. Had you been playing for Seattle in the Super Bowl against the Patriots last season, would [Patriots DB] Malcolm Butler have beaten you to that last pass?
I mean, I have total confidence in myself. And I'd be silly to say, 'No, I don't think I would've beat him.' That wouldn't be the competitor that I've always known. So I'm going to say, yeah, I think I would've made a play, maybe earlier in the game so you didn't get to that point where it came down to the last play. So, I guess, that's something we just don't know.
Tags: #GT15